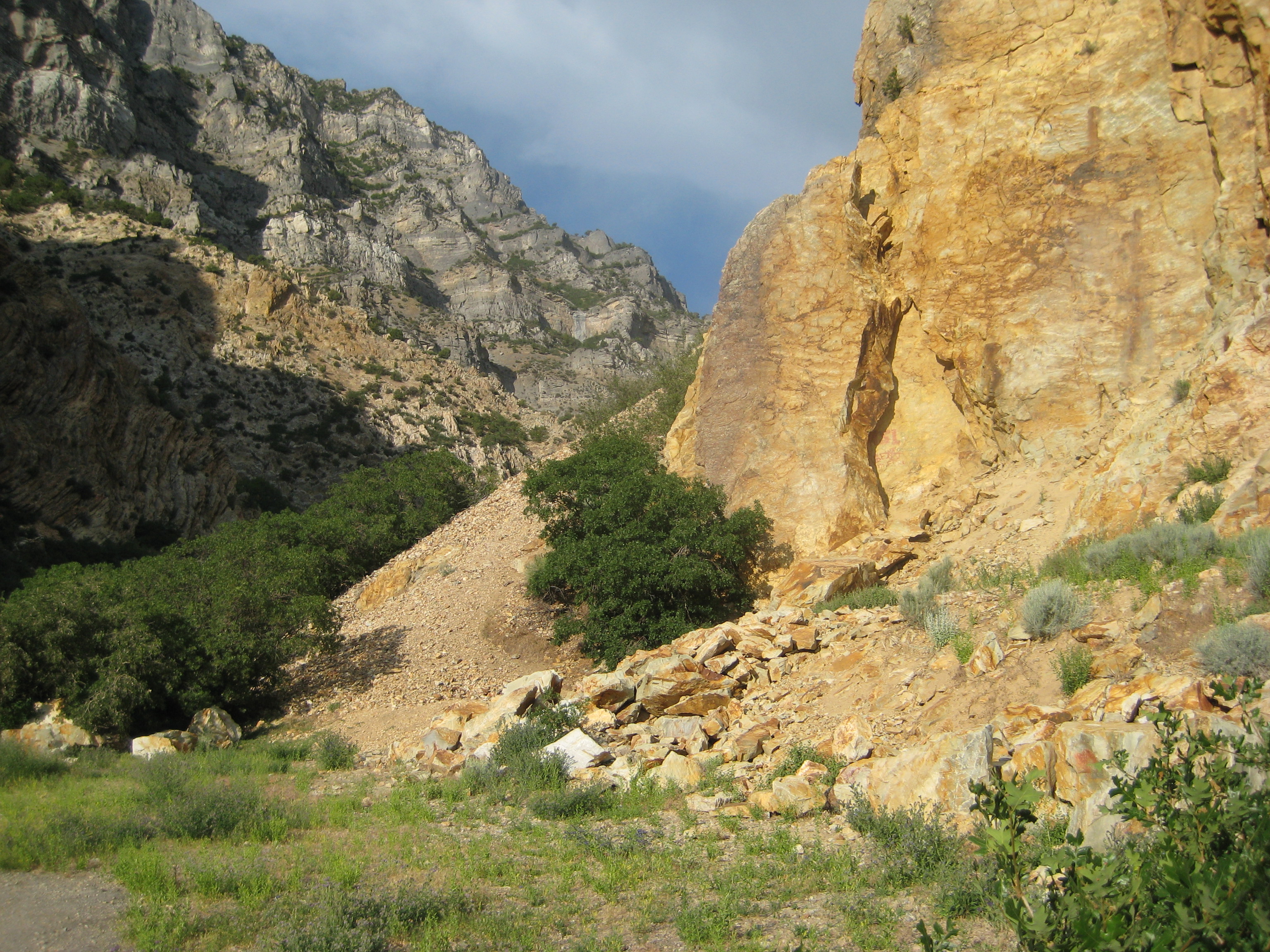 Rock Canyon
An unexpected late night sleepover (liv's couisin) catapulted me into a 4 hour sleep deprived coma this morning. I woke up at 6am in a groggy fog, but decided to go on my Saturday trail run with my group anyway. I was suppose to hit 20 miles, but talked myself out of it while i was fumbling around trying to find my running clothes.
20 miles is so not happening today. Get a good 10 in and we'll call it a day. Maybe on Wednesday you can try 20.
Good plan i thought. The hills on the LA Freeway are a killer anyway, so the plan seemed smart. The LA Freeway (lactic acid) are a series of trails that head up to the "Y" painted on the mountain just under Brigham Young University. The trail continues into Rock Canyon. One of the most beautiful canyons in Provo (in my opinion).
I arrived at Memorial Park and instantly saw my mentor Bruce Almighty wasn't there. Bruce is just that...mighty. He runs really fast, he runs freakishly long distances (that would be 50 miles in my book), and he doesn't sweat or huff or puff. Come to think of it i don't even think he breaths at all.
He has been very gracious to take me under his marathon wing and i've learned the world from him. I can just hear him now.
"Don't get in the back of the pack. Talk a bit and then break off. You need to think about pace."
or
"Keep your Cadence up... faster... faster."
or
"Time for speed work kid." (he usually says this about mile 9 or 10).
So when good ol' Bruce wasn't there, i thought this could be an easy 10. With my lack of sleep and all the lactic acid hills, i thought this was a perfect day just waiting to happen.
About 2.5 miles into the run, we hit the mountain and start to climb. And who do we see at the top? Bruce Almighty. "Where did you come from?", we all ask. He explains he has been on the mountain since 5:30 am running. Then the dreaded question, "How about that 20 miler today Farrah?"
I am dumbfounded. I had no idea what to say except for, "I'm not feeling it today. Late night." He shrugged, waved his arm in a welcoming fashion and said, "Let's head out then. Farrah follow me."
Oh crap balls... here we go. Pain.
Was it really painful? Yep it was. We did speed, then tempo, then hills. A medley of pain. After about mile 8 we hit 3 hills that just tore me apart. Little sister, Big sister and Grandpa. Grandpa can just... diiiie. I hate that freakin' thing.
The home stretch (mile 10,11 and 12), Bruce explains will be a mix up. Down hill at a good strong pace, then 1 mile at 100% to try to break my mile PR (7:29), then a relaxing pace home. I am scared.
To make a long story short, it was an amazing 3 miles. Not at all comfortable but i broke my PR on my mile. 6:50!!! I am very excited.
My Own Calcutta today is a mesh of things...
1. Living in Utah! I am able to get out of bed, drive 10 minutes and take a run in some of the most beautiful mountains in the United States.
2. Having a running mentor. I wouldn't have been able to push myself to that extent without Brucie.
3. Beating my 1 mile PR. I am loving those sixes.